What is a balanced scorecard?
A balanced scorecard is a great tool to translate goals into concrete strategies and action plans. It introduces the lean culture to all areas of the business rather than concentrating solely on manufacturing outcomes.
A balanced scorecard is a strategic management tool used by organizations to measure and monitor performance. It provides a balanced view of an organization's activities and outcomes by considering multiple dimensions beyond just financial measures. This approach was introduced to move organizations away from financially biased measurement to a more balanced approach that links all four perspectives of an organization's success:
Financial / Customer / Internal business and Learning & Growth
Financial Perspective: This perspective focuses on financial objectives and measures, such as revenue growth, profitability, return on investment (ROI), and cost reduction. It reflects the organization's financial performance and outcomes.
Customer Perspective: This perspective emphasizes customer satisfaction, loyalty, and retention. It measures key indicators related to customer needs, expectations, and market share. It helps assess the organization's ability to meet customer demands and deliver value.
Internal Process Perspective: This perspective looks at the internal processes and activities that drive organizational success. It involves identifying and measuring critical processes and operational metrics to improve efficiency, quality, and innovation. Examples include cycle time, defect rates, and process improvement initiatives.
Learning and Growth Perspective: This perspective focuses on the organization's ability to learn, develop, and adapt for future success. It includes measures related to employee training, skills development, knowledge management, and employee satisfaction. It recognizes that motivated and capable employees are essential for long-term performance.
By considering these four perspectives, the balanced scorecard helps organizations align their strategies, objectives, and performance measures across different areas. It enables a more comprehensive assessment of organizational performance and facilitates informed decision-making. It provides a clear overview of the key performance indicators (KPIs) and progress towards strategic goals.
To ensure maximum value is achieved, these performance measures should be a combination of lead and lag indicators. Lead indicators are forward-looking measures that provide insight into future performance, while lag indicators are historical measures that reflect past performance.
So, if we look at this from the customer perspective, a forward-looking measure could be to improve brand awareness through PR. You set your target, record the actual and then set initiatives to help you reach the target. A lag indicator could be OTIF%. Your target is 100%. If your actual is below your target, initiatives are set to meet this target. The Problem Solving tools explained in a previous article – Read A3 Problem Solving – will help you to get to the root causes which are holding you back from achieving your set goals.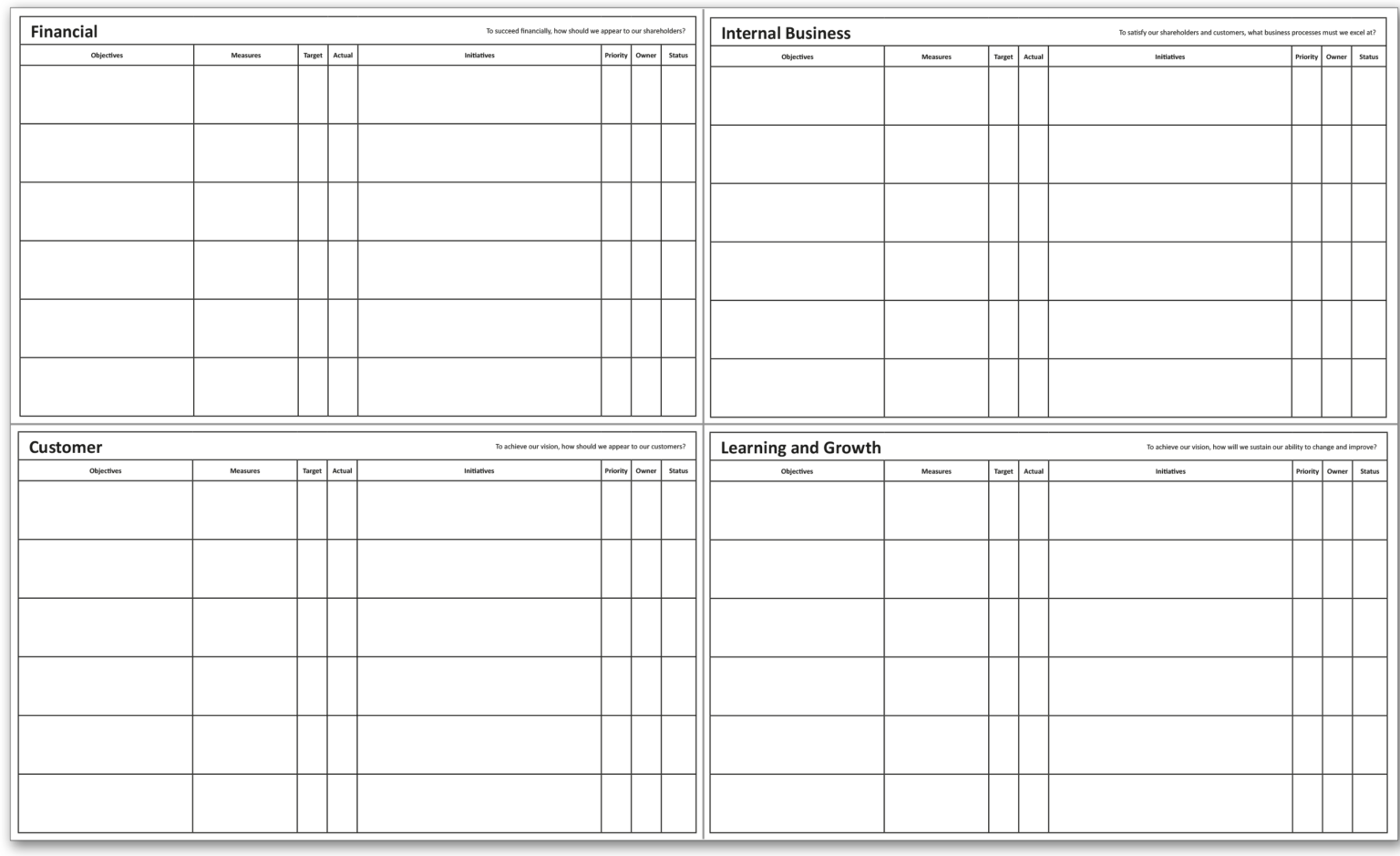 Our Balanced Scorecard is divided into 4 separate dry wipe sections which can easily be moved between offices. Each magnetic whiteboard section measures 100 x 60 cm giving an overall board size of 200 x 120 cm. It also allows you to update your board in the future by adding new measures in line with your company continuous improvement plan. Custom and standard options are available.