What Formats Do We Accept?
Artwork accepted using the following:
Sketch, scan or even a fax

Microsoft Word/Excel/Publisher

Adobe InDesign/Illustrator/Photoshop/PDF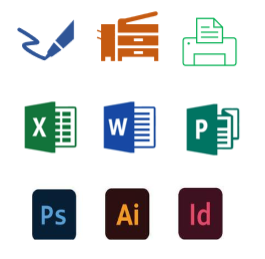 Logos
Logos are to be of printable quality.
If you are supplying company logos please ensure they are minimum 300dpi @ 100% full print size either EPS or high-resolution JPG / TIF.
Pantone logos can only be saved as vector eps via InDesign or Illustrator. Photoshop cannot separate pantone refs for print. 

Full colour CMYK logos can be saved as either EPS or 300 dpi JPG / TIF.
For Special Images or Maps
Preferred format - EPS or high resolution CMYK JPG / TIF - 300dpi @100% full print size
Images (raster artwork) should be 300dpi @ 100% full print size. 
Any images included in InDesign or Illustrator should be CMYK @ 300 dpi full print size. 
Use of Photoshop EPS files If these files are being used within a document, please ensure that they are saved with a Macintosh/Tiff 8-bit pixel header file. Do not use a JPEG encoded header file. 
Binary format not ASCII 
 Use of Vector EPS files Wherever possible all text should be converted to curves (e.g. Illustrator, InDesign )
Board Sizing
The finished board size includes any frame. If you are laying out your board, please note that you will need to work to the Image size.
We do produce interim bespoke sizes. Please contact us to discuss your project and we can give you early guidance.