How To: Order Custom Printed Whiteboards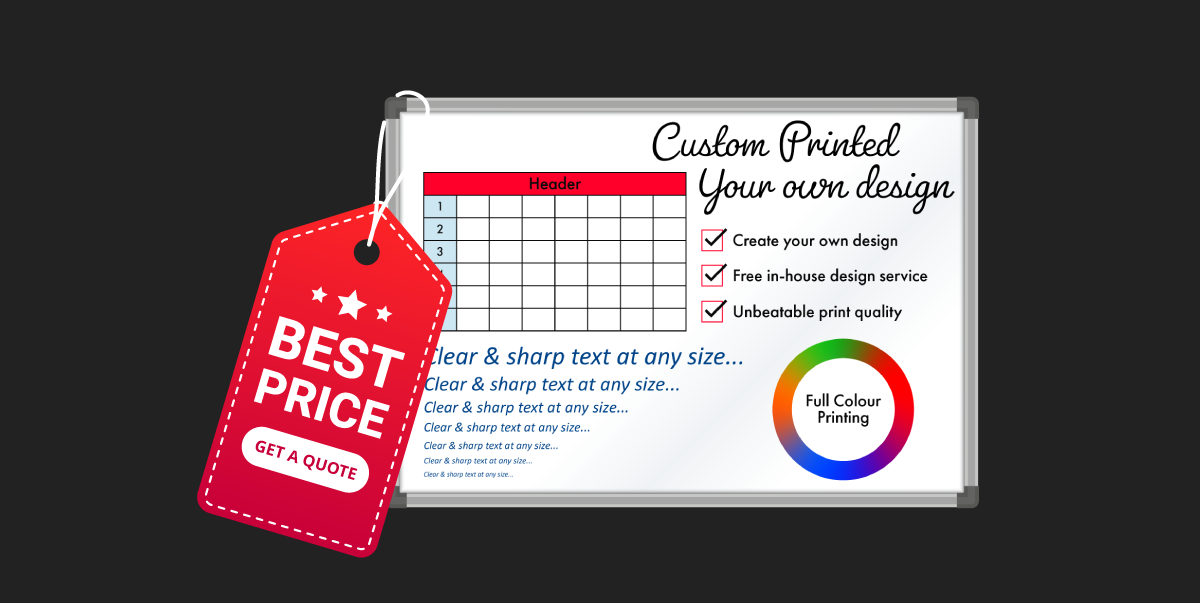 Make your boards go further 🏎
Discover how to order custom printed whiteboards. It's never been easier! Create a weekly planner, monthly calendar, a health & safety board or a scrum / Kanban tool to help you manage projects and stay productive.
Organise staff meetings, production time-tables or school events. The possibilities are endless when creating your own custom printed whiteboard.
Shop printed whiteboards >         Get a bespoke quote >
Shop our Wall Mounted Printed Boards
Explore our wall mounted personalised whiteboards, suitable for all working environments, including office spaces, factory floors, and education classrooms.
Shop our most popular wall mounted custom printed whiteboards and logo boards, as well as our winged whiteboards, available with 1 or 2 wings.
Shop wall mounted printed boards >
Shop Printed Whiteboards on Stands
Printed whiteboards on stands play a pivotal role in a wide array of working environments.
We offer a variety of whiteboard stand solutions which can be configured to suit your needs – revolving boards, rotating 3 / 4 sided boards, whiteboard cupboards and flipcharts.
Shop printed whiteboards on stands >
Get A Quote
If your custom whiteboard is a little more bespoke, such as requiring a large quantity or a custom built solution, you can fill out our easy printed whiteboard form and our experience team will provide you with a tailor-made quote, bespoke to your needs.
Explore our Custom Printed Whiteboard Galleries
We have a vast printed whiteboard gallery, which spans across multiple sectors. Our whiteboard gallery is designed to offer you insight and inspiration into how to achieve your desired custom printed whiteboard design. From education to healthcare and factory to office designs, you can explore our portfolio and find something to inspire your design.
About Magiboards
Magiboards revolutionised office technology with the invention of the whiteboard in 1966. Today, Magiboards is the market leader of visual management tools and office products, supplying all sectors of businesses across the world. Our products help organise, focus, plan, and communicate with teams in all working environments. Magiboards' employees are dedicated to making the best products on earth, and to leaving the world better than we found it.
---
Press Contacts
Thomas Hodgetts
thomas.hodgetts@magiboards.com
+44 (0)1952 292 111

---