Discover Whiteboard Starter & Accessory kits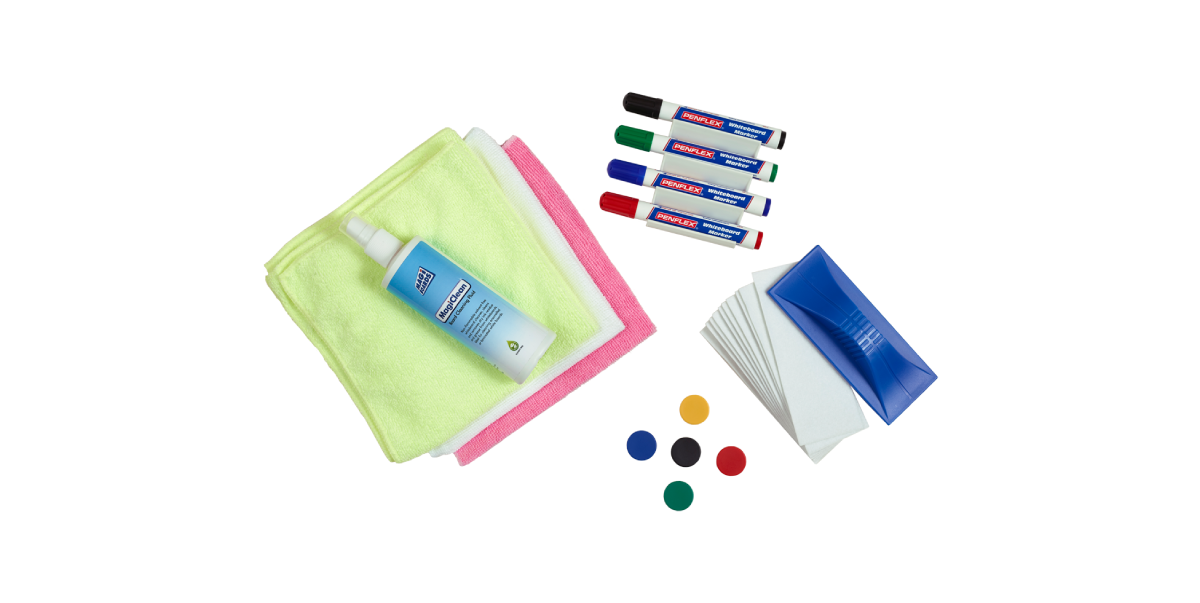 Let's take it back to the start ⏪
Get started using your whiteboard or glass board with one of our starter & accessory kits. Built using some our most popular accessories, these kits have been designed to get you started using your board from day one.
Shop starter & accessory kits >
Whiteboard Starter Kit
The Magiboards whiteboard starter kit provides all the essential equipment to get you started with your magnetic whiteboard. Including whiteboard marker pens, cleaning equipment and magnets.
In the box:
4 x Disposable dry erase marker pens (Blue, black, red, green)
1 x Pen holder. Space for 4 marker pens. Choice of magnetic or self adhesive attachment.
5 x 25mm Multi colours memo magnets (Red, green, yellow, blue and black)
1 x Magnetic whiteboard eraser
1 x Pack of 10 eraser refills
1 x 250ml MagiClean whiteboard cleaning fluid
3 x Microfibre cloths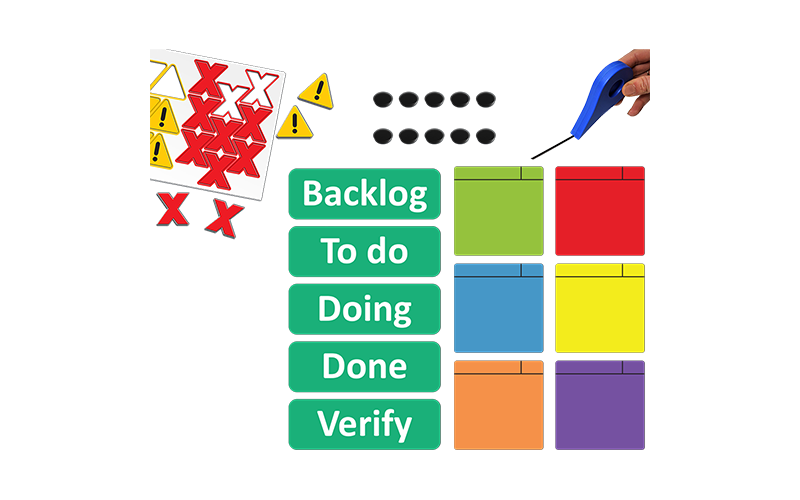 Scrum Kit
This Scrum Kit supplies all the essential tools to make your own scrum whiteboard.
Scrum is a framework that helps teams to achieve. Like a sports team training for the next big game, Scrum encourages teams to work together, to organise themselves and to reflect and act while working on a problem in order to continuously improve.
In the box:
6 x Pack of 5 magnetic dry erase notes in 6 colours (green, red, yellow, blue, orange, purple)
5 x Scrum headers (Backlog, to do, doing, done, verify)
10 x 20mm Black memo magnets
1 x A5 sheet of 35mm magnetic crosses & warning triangles
1 x 3mm Black self adhesive gridding tape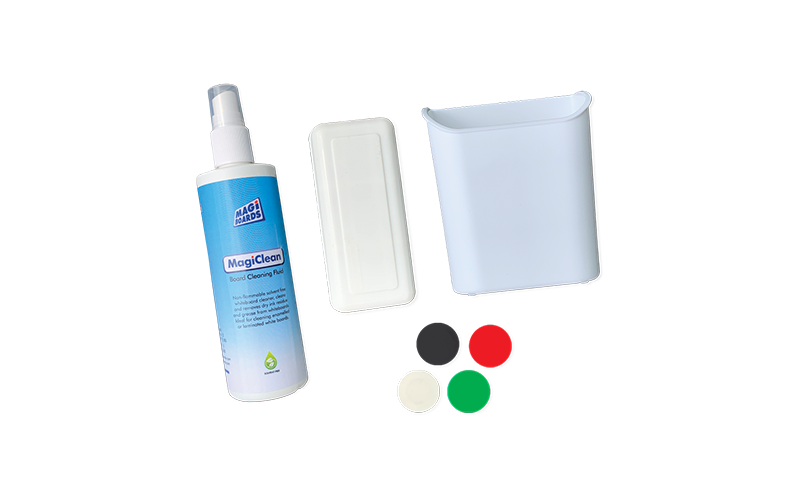 Glass Board Accessory Kit
The Magiboards glass board accessory kit provides the basic accessories you need to get you started with your magnetic glass board. The glass board eraser is magnetic and be used with all our magnetic glass boards.
In the box:
1 x Magnetic glass board eraser
1 x Accessory holder midi
1 x 250ml MagiClean cleaning fluid
4 x 30mm Extra strong magnets (Black, green, red, white)
About Magiboards
Magiboards revolutionised office technology with the invention of the whiteboard in 1966. Today, Magiboards is the market leader of visual management tools and office products, supplying all sectors of businesses across the world. Our products help organise, focus, plan, and communicate with teams in all working environments. Magiboards' employees are dedicated to making the best products on earth, and to leaving the world better than we found it.
---
Press Contacts
Thomas Hodgetts
thomas.hodgetts@magiboards.com
+44 (0)1952 292 111

---