4 Benefits of Lockable Noticeboards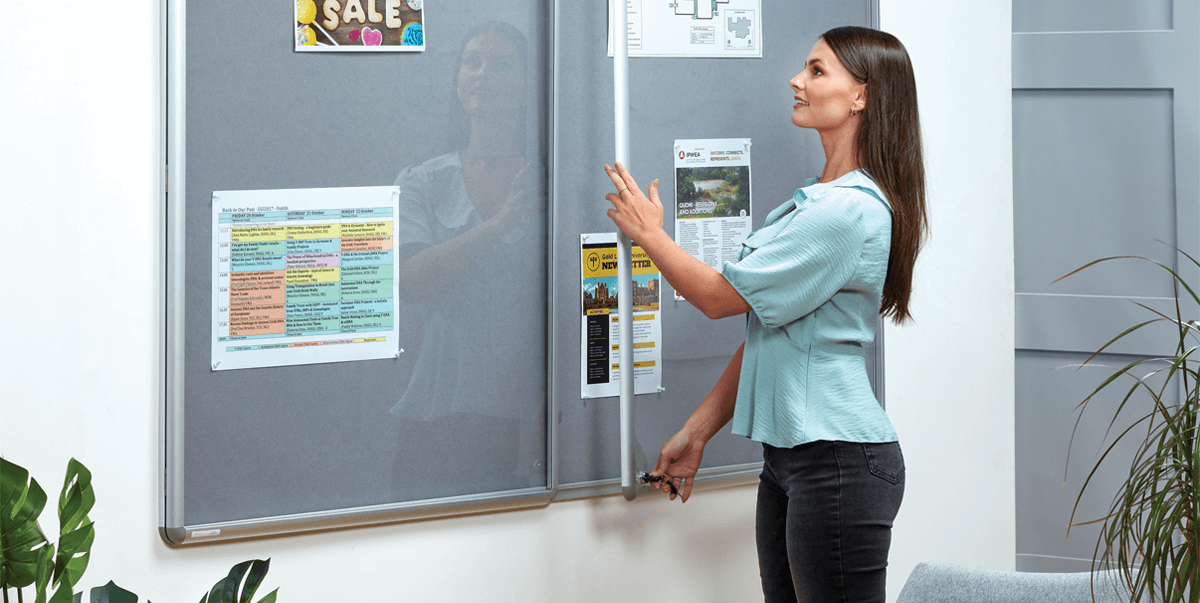 Keep your information & notices secure 🔐
Lockable noticeboards are essential in areas where information or key messages needs to be displayed. Thanks to the transparent windows and tamperproof locks, lockable notice boards are a fantastic solution for offices, classrooms, hallways and reception areas.
1. Shatterproof APET Lockable Doors
Our home-brand lockable noticeboards are manufactured using see-through windows made from the most secure materials; The doors are manufactured using shatterproof APET, commonly used in bus shelters and riot shields, to offer security and excellent visibility.
The doors are supplied with lock & key for a complete tamperproof solution.
2. Up To 9 Surfaces & 63+ Colours Available
We have 7 fabric covered noticeboards options, as well as cork surfaces and self-coloured eco-friendly boards available. All surfaces have their own features & characteristics, which provide great functionality and benefits as a noticeboard surface.
3. Flame Retardant Noticeboards
Fire safety lockable noticeboards should always be considered when creating or updating office, school or construction spaces. Lockable noticeboards are the perfect place for pinning ideas, inspiration and handy reminders, with the added benefit of being tamperproof.
Shop lockable fire safety noticeboards >
4. Outdoor Boards & Signage
Our outdoor noticeboards & signage range effectively combines signage and display, allowing you to present information and notices outdoors, whilst promoting your school, university, college or business identity.
About Magiboards
Magiboards revolutionised office technology with the invention of the whiteboard in 1966. Today, Magiboards is the market leader of visual management tools and office products, supplying all sectors of businesses across the world. Our products help organise, focus, plan, and communicate with teams in all working environments. Magiboards' employees are dedicated to making the best products on earth, and to leaving the world better than we found it.
---
Press Contacts
Thomas Hodgetts
thomas.hodgetts@magiboards.com
+44 (0)1952 292 111

---