Cork Boards Are Great! But How Are They Made?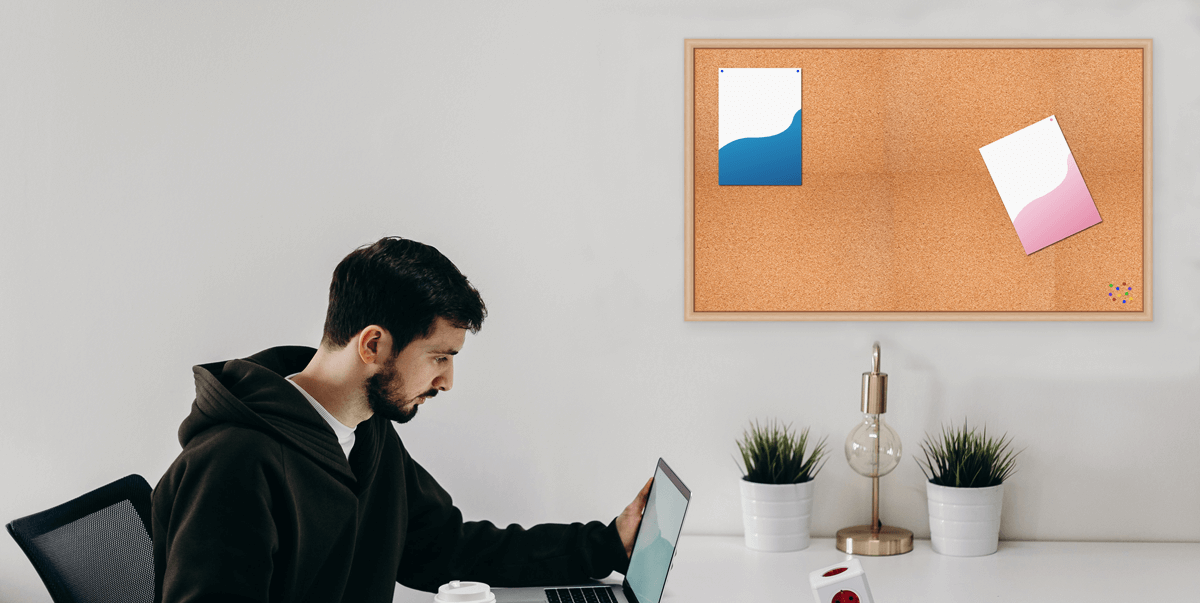 Cork boards. The natural choice.
Cork notice boards date back to the early 20th century, when George Brooks of Kansas USA issued a patent for the use of cork board as a bulletin board which you could stick push pins into – so it is not surprising that cork boards have been a staple in offices, homes and working environments for many years. Despite competition from other types of pin boards, cork boards endure, mostly thanks to its great natural properties.
Discover how cork notice boards are made.
What is cork? How is it harvested?
Cork is a natural product, harvested from the bark of a cork oak tree. Cork oak trees primarily grow along the coast of mediterranean countries. Being bark, it has wonderful properties such as; water-proof, lightweight, rot resistant, fire resistant, soft and buoyant making it the perfect choice for cork boards.
Cork oak trees are to grow for 25 – 34 years before the bark can be stripped from them – after that, it can be stripped every 10-14 years for as long as the tree lives, taking care not to damage  the inner bark of tree.
Once the cork bark has ben harvested, the rough outer layer is then removed and the remaining pieces are then boiled – boiling aids the removal of the outer bark and also softens it, making it much easier to work with.
It can then be ground up, and baked for use in cork pin boards.
Why is it good for making cork boards?
Despite being a wood product, cork is amazingly fire resistant. In the event of a fire, the cork surface will only char and no toxic fumes will be released.
Cork also has anti-slip properties. Thanks to its natural surface, there are open holes which act as little suction cups and these cups effectively grip the surface.
Cork does not absorb dust or moisture and is very resilient to being crushed. It doesn't rot, it resists insect, and is resistant to wear.
The flat surface is also ideal for displaying lager materials, such as maps or graphs.
Looking deeper, cork has a honeycomb-like structure meaning much of the space is empty, which proves to be very lightweight. These holes are great for insulation and noise reduction and provide a cushioning effect, which offers great user experience with push pins.
How are Cork Notice Boards made?
Cork pin boards are made from a layer of cork, usually around 1-3mm thick and is then permanently bonded to an industry standard inner core, often medium-high density fibre board. This method of manufacturing is necessary to keep the board rigid and improve pin retention.
Cork Pin Boards – What are your options?
Wall mounted Cork Boards are configurable with 4 different framing options – aluminium and light & dark wood effect 25mm & 40mm frame. The natural cork surface is usable with push pins and staples and comes in 8 standard sizes.
Lockable Cork Notice Boards are manufactured are available with an aluminium frame, as well as a 40mm light wood effect frame. Lockable boards are constructed with see-through doors made from shatterproof APET and come fixed with door locks for improved anti-tampering.
Combination boards offer the best of both notice boards & whiteboards. When configured with a cork board, combi-boards are a versatile product for any working environment, with it's half dry-erase whiteboard and half pinnable notice board.
All of our cork notice boards come with a 2-year surface guarantee.
About Magiboards
Magiboards revolutionised office technology with the invention of the whiteboard in 1966. Today, Magiboards is the market leader of visual management tools and office products, supplying all sectors of businesses across the world. Our products help organise, focus, plan, and communicate with teams in all working environments. Magiboards' employees are dedicated to making the best products on earth, and to leaving the world better than we found it.
---
Press Contacts
Thomas Hodgetts
thomas.hodgetts@magiboards.com
+44 (0)1952 292 111

---