Discover 9 Brilliant Reasons To Shop Custom Printed Whiteboards From Magiboards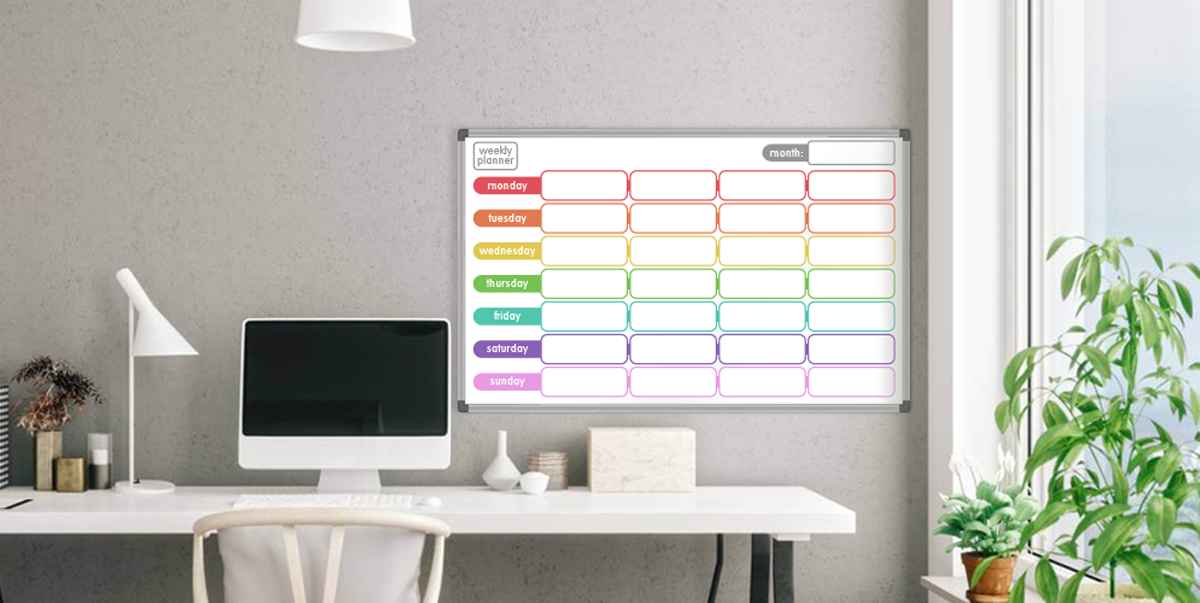 Custom Printed Whiteboards = Magiboards. It's that simple.
Magiboards are the leading manufacture of printed whiteboards and bespoke boards. Through our unique dye-sublimation printing process, we can achieve any design with near-limitless full colour printing all embed into the surface of the boards – so no overlays or bumps!
1. The Whiteboard Surface
All of our Magiboards personalised whiteboards are manufactured using a magnetic coated steel surface. Here are the benefits:
Dry-erase & scratch resistant surface
Excellent writing experience
Usable with standard whiteboard marker pens
10-year surface guarantee
All of our Magiboards custom printed boards are magnetic, dry-erasable and come with an uncompromising 10-year surface guarantee.
All of our custom printed whiteboards are available to be ordered today and delivered across the UK.
2. The Printing Process
As well as offering any design with a near-limitless colour palette, our printed boards are created using our unique dye-sublimation printing technique. Dye-sublimation printing allows for your board graphics to be embed into the whiteboard surface – meaning no overlays or bumps and it maintains the whiteboards 10-year surface guarantee.
3. Free In-House Design Service
Do you have an idea for your customer printed whiteboard? Great! Send it over and we can turn your idea into a digital proof to you give you a real feel of how your board will look.
Not sure what will work best for your design? Our free in-house design team can create a design that will suit your needs and your working environment.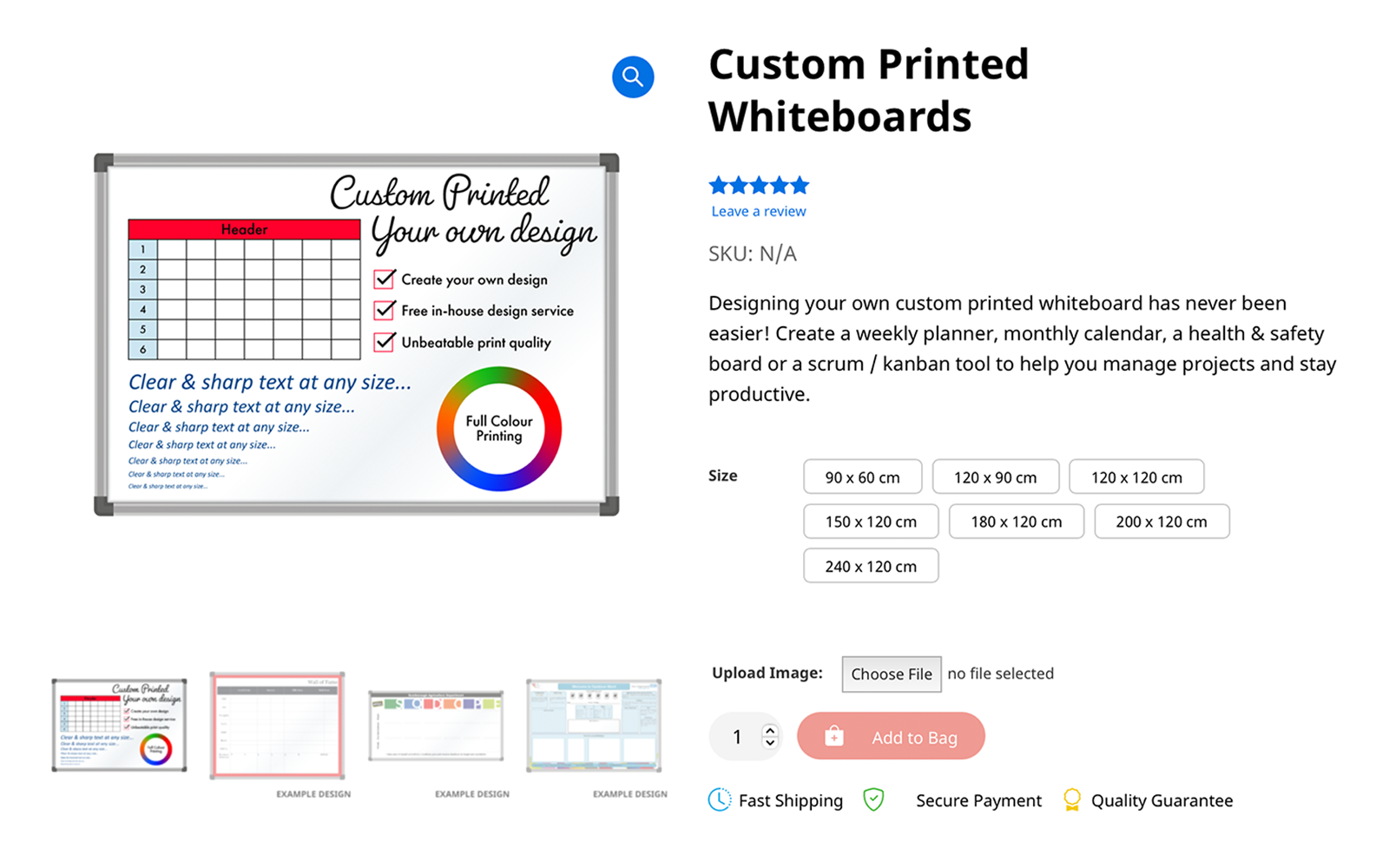 4. Ordering From Us
Ordering a personalised whiteboard from Magiboards has never been easier. Simply select your desired printed board product, choose your desired size and any other configurable options, upload your design (Acceptable file formats: .ai .eps .tiff .jpeg .png .pdf .xlsx .doc) and checkout. It's that easy!
We will then create a digital proof of your board design and send to you for approval. At this stage you can make any amends necessary to the printed board design, or even change the design entirely! Once you're happy with the design and it is approved, the design will be sent to print and your order in production. Delivery is 20 working days from proof approval.
5. Getting A Quote
If your custom whiteboard is a little more bespoke, such as requiring a large quantity or a custom built solution, you can fill out our easy printed whiteboard form and our experience team will provide you with a tailor-made quote, bespoke to your needs.
6. No Overlays, Bumps or Creases in the Surface!
Thanks to our dye-sublimation printing process, our custom graphics are embed directly into the whiteboard surface. This means there are no overlays, bumps or creases in the whiteboard surface – making the whiteboard easy to clean, dry-erasable and it retains it's 10-year surface guarantee.
7. Explore our Custom Printed Whiteboard Galleries
We have a vast printed whiteboard gallery, which spans across multiple sectors. Our whiteboard gallery is designed to offer you insight and inspiration into how to achieve your desired custom printed whiteboard design. From education to healthcare and factory to office designs, you can explore our portfolio and find something to inspire your design.
Explore printed whiteboard galleries >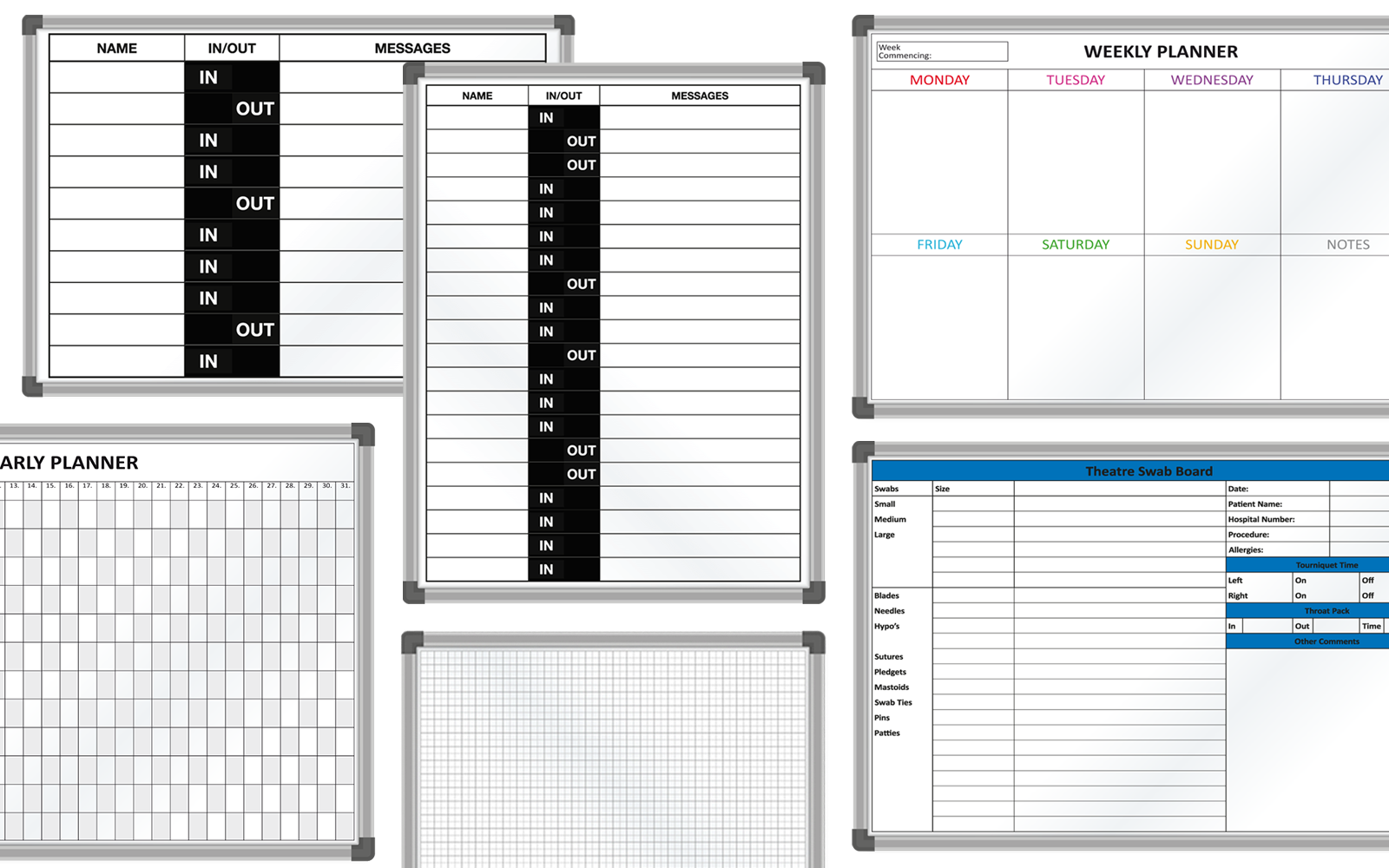 8. Pre-Printed Whiteboards
As well as custom printed boards, we also supply a range of pre-printed whiteboards which are available on 5 working day delivery. Our pre-printed range includes daily, monthly, yearly and weekly planners, music whiteboards, grid whiteboards, hospital SWAB boards and staff attendance / in & out boards. Our pre-printed whiteboards allow you to quickly upgrade your working environment.
9. Customer Service & Expertise
Although the last on the list, our industry leading customer service and product expertise are some of our most important and cherished qualities. Our team personifies what it means to produce great customer service, and will always go above and beyond to ensure our customers needs are met, all questions answered, and the product received in a timely fashion.
Explore printed whiteboard galleries >         Get a bespoke quote >
About Magiboards
Magiboards revolutionised office technology with the invention of the whiteboard in 1966. Today, Magiboards is the market leader of visual management tools and office products, supplying all sectors of businesses across the world. Our products help organise, focus, plan, and communicate with teams in all working environments. Magiboards' employees are dedicated to making the best products on earth, and to leaving the world better than we found it.
---
Press Contacts
Thomas Hodgetts
thomas.hodgetts@magiboards.com
+44 (0)1952 292 111

---